THE "WHIPPET SEARCH"
Of The N.L.R.F.D. Unofficial Website!
The "Old Whippet" is the only known N.L.R.F.D. Motorized Apparatus for
which a picture is needed by the N.L.R.F.D. Unofficial Website. Above is the
only known picture (partial at that) of the "Old Whippet." Capt. Jim Dancy
remembers it being talked about when he was a small boy. He remembers that
it wasn't a very tall truck. I am convinced that it was "Hose Company 4" in
the 1938 Underwriters Report. I think it is possible that the horse-drawn
hosewagon off the 1918 Model T could have been placed on this truck.
I have to believe that someone has (probably unknown to them) a picture
of this old truck in a box, chest or other place where old keepsakes are.
It would be FANTASTIC to have a picture of EACH and EVERY NLRFD
Apparatus for the "Century Book" (1904-2004). I hope to contribute a lot
to that book. Pictured below are two other Whippet truck-chassis vehicles
to give an idea of what a front or side view of the truck should look like:


The six-spoked type wheels on the Whippet bus above are a DEAD-MATCH
for the NLR Fire Truck at the top of this webpage. Also, note the hex-type
axle bolt in the center of the hub. The front bumper is also identical to the
NLR Truck.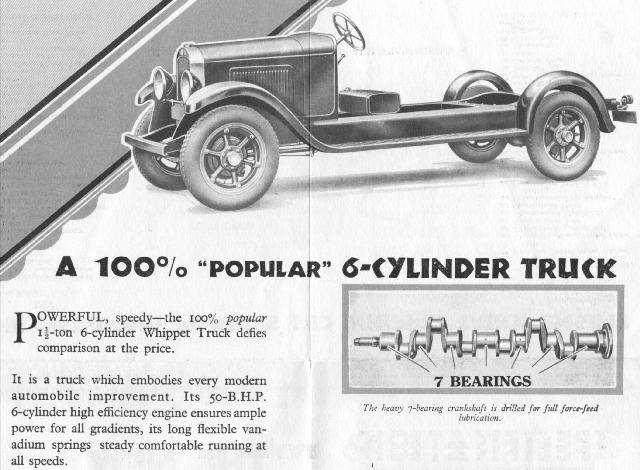 This is a Whippet 1932 Advertisement. This was a chassis which was very
similar to the one pictured above in the old NLR Fire Panoramic Picture.
If you know of any pictures of this old NLR Fire Truck, please contact me
at: leeclark01@yahoo.com