THE UNOFFICIAL WEBSITE OF THE NORTH LITTLE ROCK, AR
FIRE DEPARTMENT
THE FOLLOWING WEBPAGES OF EARLY NORTH LITTLE ROCK
(AND ARGENA) FIRE DEPARTMENT PHOTOS WERE DONATED
BY RETIRED NLRFD CAPT. JIM DANCY. SOME PHOTOS WERE
GIVEN TO HIM BY TOM WELCH, SON OF NLRFD FORMER
CHIEF TOM WELCH. These photos will be left as a group for the
present. In time, they may be moved to the NLRFD Unofficial Website
Museum (Retired NLRFD Apparatus).

.........At the Bottom of Each Page is a button to take the visitor to the next page.
A PARADE SCENE IN EARLY ARGENTA (NORTH LITTLE ROCK)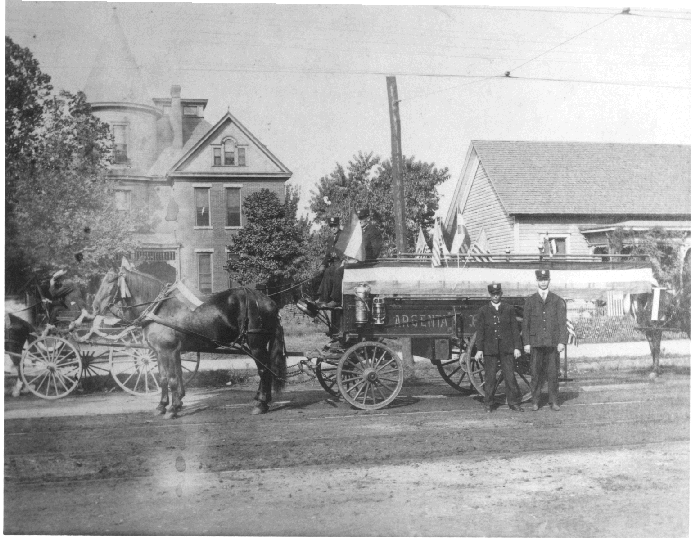 This photo was taken at Fifth and Main Streets. The two houses still stand today. Note the equipment on the Hose Wagon: Choice A: Soda Acid Fire Extinguisher ...... Choice B: (Used if Choice A Failed): 2 1/2 inch Fire Hose ... Used with Hydrant Pressure only; there were no steamers in Argenta or NLR! Note "ARGENTA" is Proudly Painted on the Hose Wagon
This Copy of this Incredibly historic Photo Donated to the Unofficial NLRFD Website
by Ret. NLRFD Capt. Jim Dancy