Retired Apparatus | Former NLRFD Stations | Old Documents | Historic Pictures| Museum Homepage | Website Homepage


Hold Your Mouse Over Any Category Above and do the same for the sub menu if necessary. Click on the item you wish to see.
1946 SEAGRAVE 65' AERIAL TRUCK OF THE
NORTH LITTLE ROCK, AR
FIRE DEPARTMENT
NLRFD'S First Aerial Ladder Truck
Delivered Feb. 1947- Sold in 1985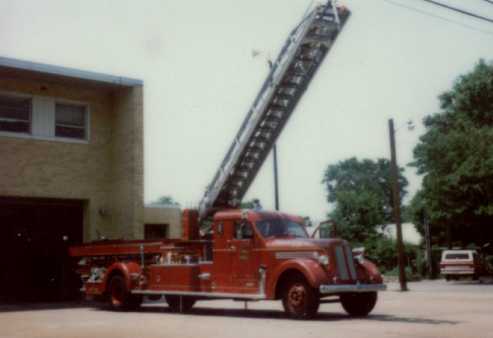 (Photo By Lee Clark)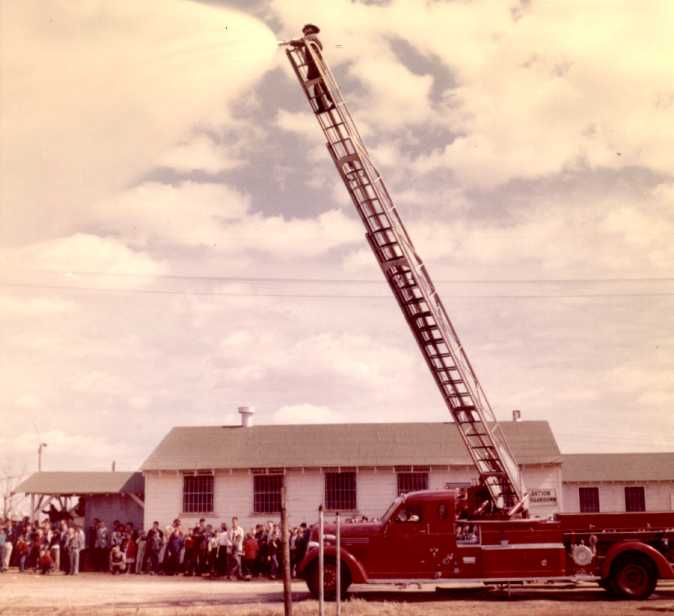 Thanks to Mrs. Gretchen Spinelli for allowing use of this picture. The '46 Seagrave Ladder Truck,
obviously still new. Check the paint job. Also note the Company Designation is still "5."

SPECIFICATIONS OF THE SEAGRAVE 65' AERIAL:
Brand of Apparatus: Seagrave
Year of Manufacture: 1946-47
Date of Order: May, 1945
Date of Delivery: February, 1947
1947-1982 Central Station:
Company 5 from 1947 until early 50's
Company 1A: Early 50'S - 1982
1982-1985: Reserve Aerial- Number Designation unknown.
65' Aerial Ladder, ground ladders, tarps, life net, .portable spot light, 250 GPM Pump,
150 Gallon Booster Tank, V-12 Engine, Standard Transmission, Ground Ladders: Wooden,
Significant Facts:
First Aerial Apparatus owned by the NLRFD. Was used for grass fires, and an occasional structure in early years when other companies
were out. Originally carried a crew of Four. Life net is visible on right rear of truck. Truck was sold at auction in 1985 to Glover Truck
Sales. Eventually sold to a party in Tennessee.
The August 30, 1946
NLR Times
reported that thirteen new NLR Firemen were hir
ed. One was an
"emergency"fireman, while others would man the new "truck on order" and others were needed for the
newly annexed areas of NLR. (Levy which was a separate city which voted to become part of NLR, Park Hill
and Rose City.) Another article from the February 14, 1947
Arkansas Democrat
stated that two four-man crews would
be needed to operate the new aerial truck. The Captains of the "Day Shift" and "Night Shift" were
named in the article. NLRFD had two twelve-hour shifts at this time.
Does anyone know where this ladder truck is today?
Please
EMAIL
me if you do!

This had to be my favorite Fire Apparatus of the NLRFD. It was sold at a public auction in 1985. It was purchased by Glvoer Truck Sales and sat on their lot on East Broadway for quite some time. It is my understanding that it was sold in Tennessee. If only I'd had the $2500 to buy it!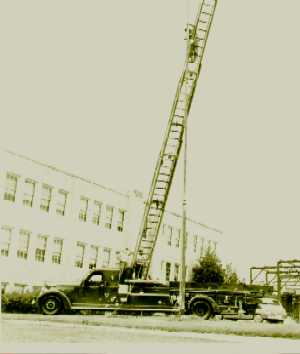 (Photo from Bob Franklin)
In
this picture of the '47 Seagrave, the number on the driver's door is "5." The Ladder Company was Company 5 until the early '50'S. This picture was made at North Little Rock Senior High at 22nd and Main Streets. Apparently a flag pole was having new ropes installed. Note that the "old gym" was just under construction during this picture. Also, note the vehicle behind the aerial truck. It looks like an early 50's Chrysler product.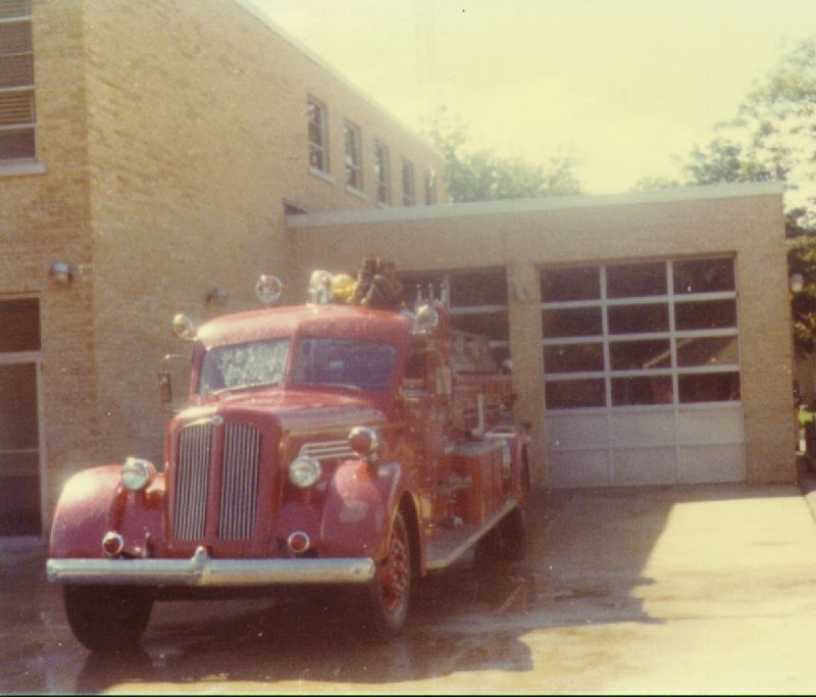 (Photo by Lee Clark)
One sunny day in the late 70's, I found "1A" getting washed. Note the fireman's boots on the roof in the
second picture. In the first picture, soap is still on the vehicle. I still remember how the paint was worn off
the front fenders at this time.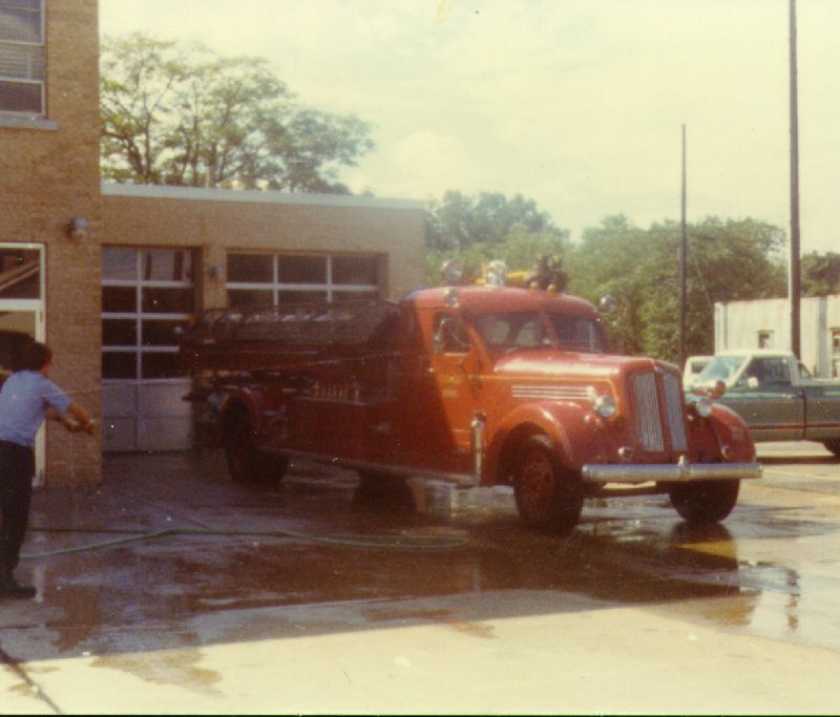 (Photo by Lee Clark)
The crew was a lone driver at this point. Station 7 housed "7A" which was the Snorkle. This truck was already a legal antique.


OLD MEETS NEW IN 1982
BELOW IS ARE TWO PICTURES THAT MUST HAVE BEEN TAKEN IN THE FALL OF 1982 SOON AFTER THE ARRIVAL OF THE
1982 AMERICAN LA FRANCE REAR MOUNT AERIAL TRUCK. (This was a NEW 1981 model, delivered to NLR in late July or
Early August of '82. Stories abound that this was to be a FDNY truck and was turned down because of only one rear axle.)

The pumper visible in the top picture is the 1981 American La France soon to be put in service as Engine 1 This is the Engine
that was destroyed in the accident in 1999. (This accident was NOT the fault of the NLRFD!) I happened to drive by Central Station
on the day that the 1981 La France Aerial was delivered. The driver from American La France kept asking where the "regular"
aerial was. He could just not believe that the old Seagrave was still in regular service and was not a reserve! My biggest
surprise about the '81 American La France was that it did NOT have a white top. The two new pumpers already delivered did,
and unoffical word was that the aerial would have a white top, also.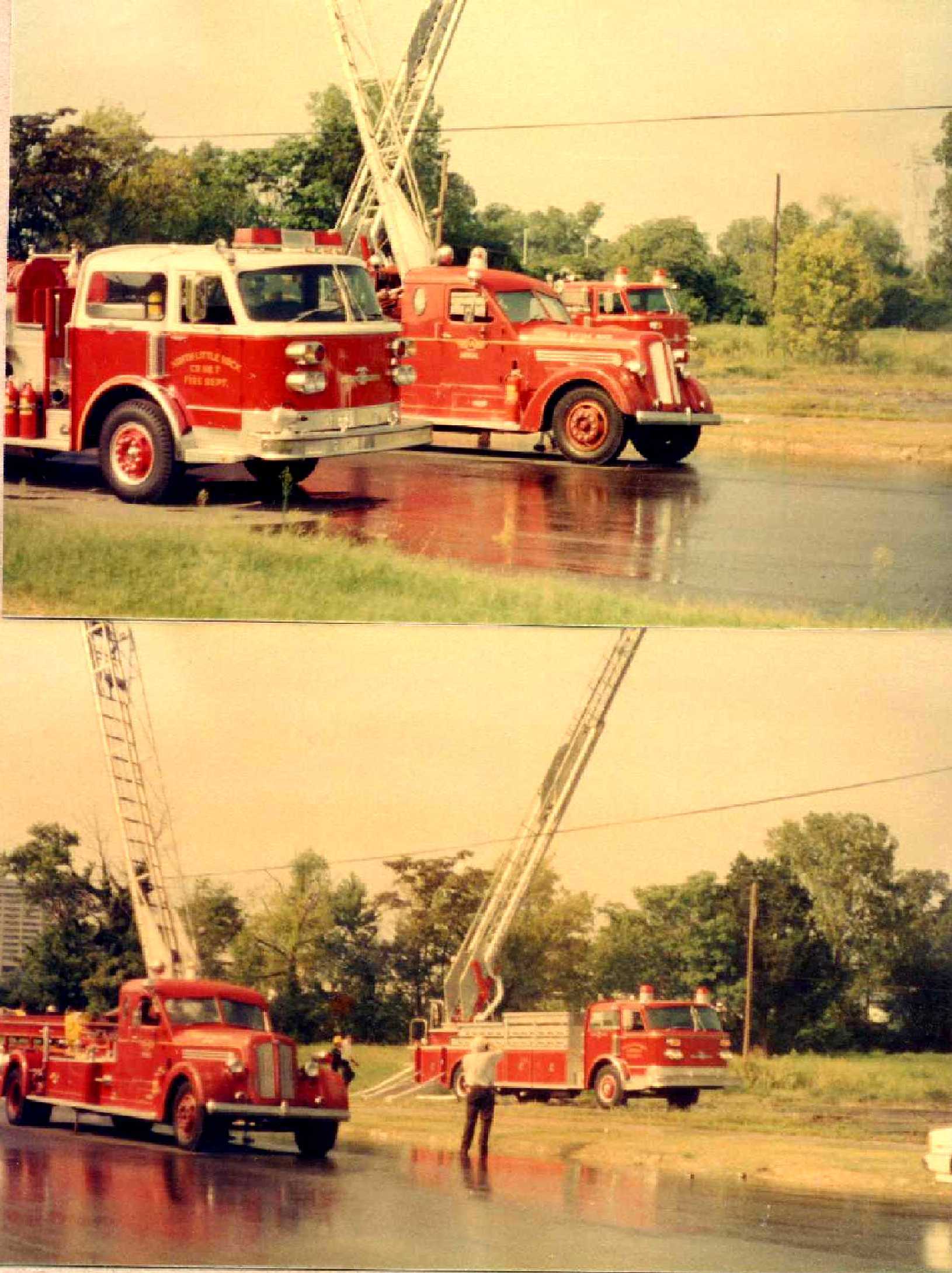 (The Above Photos of the 2 Aerials:
Courtesy of Lee Church, Chief - Sherwood F.D.